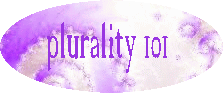 Plurality 101, or Plurality for Dummies
(or Stuff You Can Show Your Grandma To Explain To Her
That You're not a Serial Killer)
What is Multiplicity? A short brochure in PDF format which has been sent out to hundreds of therapists, clinics and universities across North America. Feel free to download and redistribute it.
Many People, One Body: A Book about Multiplicity for Children
Written by Ruka of our system. We're going to try to get this up in a PDF format soon, with illustrations. To the best of our knowledge, it's the only text in existence which explains multiplicity to children from an empowered perspective.
The Significant Other's Guide To Living With A Multiple: Beta Version
Still on the drawing board: FAQs for singlet relatives and friends of plural systems.